All Good Things WILL Eventually...Come To An End.
* Disclaimer: I wrote this post since 2-3months back ago. Back then, I was certain to get over Week Zero & end my term as a BSC MainComm. My objective is: I, Samantha Whang, will NOT be rerunning for Business Studies Club AY11/12.

But, I edited this post right after tonight's talk with some of my current maincomms. We had Tau Huey and sat at LASELLE to simply talk. This is the night I really poured out all my reasons for both re-running and not running at all. Which, I will share with you guys later on in this post... So now, I'm still deciding whether to run or not.
__________________________________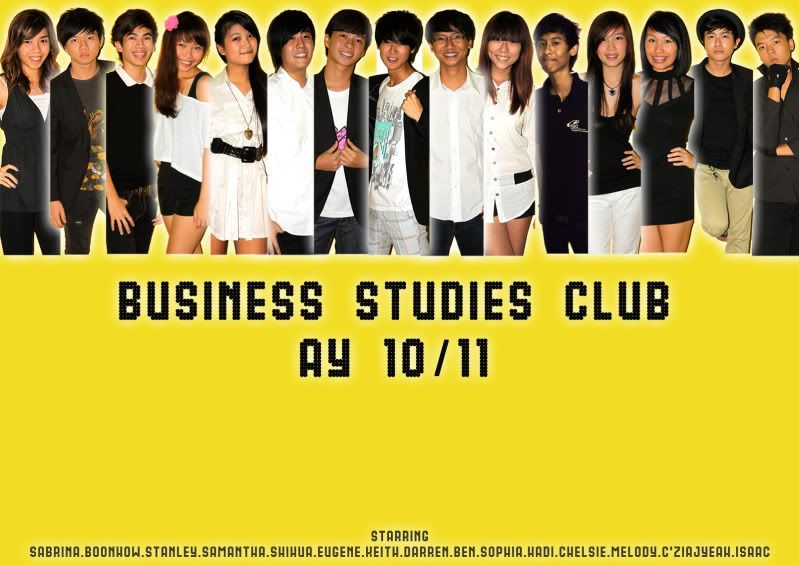 _________________________________
When I say 'I WANT IT', I REALLY WANT IT.
When I say 'NO', means NO.
When I make a choice, I take many factors into consideration & also, think of the consequences.
___________________________________________________________________
If you had read my election post
http://samanthawhang.blogspot.com/2010/04/reasons-for-running-bsc-elections-ay.html
last year, choosing to run was a decision I had to make. From the start, after making up my mind, I already stated I wanted to run when everyone asked me. I'm not the kind who hides what I want then when it's nearing elections then suddenly say I wanna run. I think it's damn retarded. Like if you really want to run, then say so. What's there to hide? I remember how passionate about it. I believe I could make a difference in BSC, I believe it will be a good experience and I believe that it would do everyone some good.
No doubt, Year 2 has been the most fulfilling year because of all the events we organised and been through as a whole comm. The countless camps,meetings,dinners,suppers,latenights, etc
The seniors say going through an entire AY is not easy.
You will encounter fights even with your bestest of best friend in the comm due to work, but I proved that it can be otherwise. Trust me, because I never fought with anyone in the comm. I know that there were internal fights but everything was settled in the end.
They also shared this line I will always remember most - 'I came into the comm as an individual but after finishing an AY, I found 14 other family members'. Not forgetting, THE most memorable & glorious moment - Winning BUSINESS WEEK ZERO for the 7th Time running!
But, like they always say... All Good Things Come To An End.
I Thank God for what he has given me in the past AY.
A Business Comm I call Business Family, BSC Room, Business School I call Home.
I served Business School officially for ONE entire AY & I'm glad I did. What I'm even more glad of is that I can leave my service in peace and happiness because we fulfilled our dream and goal of winning Week Zero. Something all of us can proudly say 'I fulfilled what I set out to achieve!'
Someone once told me
'Choosing to RUN is an unstated
2year commitment
'
At that point of time, I could relate to it, to the extend that i print poster i never put date so I can run for 2 years. Despite that, I know I didn't feel anything about that statement. But NOW, I understand. because you learnt so much and if noone reruns, what will be of the next batch of maincomms? Noone to teach them, they have to start anew & afresh. Kinda ridiculous, I would agree. BUT, to me... I'll like to see it as...
Not rerunning is not SELFISH but SACRIFICIAL.
Because I'm letting someone else take over me.
TO RUN IS A CHOICE, TO NOT RERUN IS A SACRIFICE.
I can afford to Re-Run.

1. I am a determined person. If I made the choice to submit the Yellow Nomination Form on Wed, it's signing a death contract, a contract where there's no turning back. But the fact that I decided to sign it and submit it, means I'm mentally & physically ready to go thru this 1 year of whatever comes my way in the new comm.
2. My parents are supportive of me if I really want to run. Anyways, even if I don't, I'll prolly just spend more time at home. That's all. Quite blessed to have a supportive family!
3. I am confident of holding the new comm tgt in terms of emotions etc...
My only reason for rereunning will be: TO MAKE CHANGES
Because being a Year 3, no doubt people will expect more of you. But at the same time, being a Year 3 means you have 1 year of experience and people will sortof listen to you. So I want to have this power to be able to make changes for Business School. I really am determined to change the whole culture of BSC and Business School, proper. Things like, I don't see why we need to have so many meetings, long debriefs, camps have final clash, etc. For what sia! I would just say the strategy is to REST. To end this part off, this is what Shi Hua said "BUSINESS didn't give up on me, so why should I give up on BUSINESS".
Despite saying that, I feel that I don't deserve to run! Frontline of events, I know I don't perform well. But regarding this point, just now during the talk, they said "There's always got to be someone doing the backend work & being a maincomm is not just about cheering. It's more than that." That did make me feel a little better about myself as a maincomm. Hearing what they said things like I really did do my part this year and it was easy working with me because they trust me with the work.

I weighed my PROS & CONS.
The main reason is because I expected more of a main committee. When I first got elected, my ex maincomms use to tell us traits of a good maincomm: Puntual, On-Task, Paperwork must zai zai, etc. But when I got into my current comm, sometimes it's v disappointing. I feel that I prepared myself that being in a comm is very stressful so I really am punctual 90% of the time, I hand in my paperwork on time, etc. But when I see things like I'm early and the rest and late for example, I will think to myself 'Then what for I come early sia, Why must I do so much work when the rest ain't doing it as well?" Of course, I am not blaming my current comm cause I love them too much to do so, thus, I'm just taking everything whether good or bad as an experience. Take it & Move on with LIFE yo!
So that's the reason for not rereunning. Because I don't want to be in a situation that I question myself the same questions as above. So if I don't expect others to be like me, then I might as well just not run. "You can't change the world so change yourself."


Another thing is if you realised, I have never fought w anyone in my main comm before. Normally, the ex maincomms prep-ed us saying that when you get into a comm, confirm will have fights. But I proved them wrong. WHICH ... IDK if it's a good thing or not la. But I have my reasons for doing so. Because I think it's damn childish and I honestly don't see a point to. For me, I'm more logical... I rather solve it than to fight over it.
Besides the main reason, I have too many other commitments. I shared with my current comm just now, how torn in between I am between juggling everything because I am a perfectionist... thro I know God is always in the center of my life, of all things I do.
Here they are,
CHURCH. PROJECTS. STUDIES. FRIENDS
1) Church.
I love business BUT I love God more. If my testimony of being an allrounder yet choosing to sacrifice and not rerun can bring more souls then i will do it! Because when we die, we can't bring achievements with us, so what we can do now is simply to touch more lives. The life of everyone we meet in our journey.
2) Internship.
I will confirm have to put my heart where my Internship is. Because right now, it's an ideal internship so I won't compromise this.
3) Grades.
This I won't compromise on as well.
In my group, I am the one holding them together. Like giving out roles to do work, etc. I am sort of a perfectionist when it comes to project work and studies. So I put in a lot of effort doing group projects and I will want to do it myself and do the final collating. This year was so bad until I even had to 'SIAM' from booth just because I really needed to do my project work. I felt so guilty because I had to commit to both sides. So yeah... but this point just now during the talk they said that if I had shared to them earlier on, they won't confirm understand my situation and excuse me from the booth duties. So if I even run again, I will confirm share this part with my new comm first things first.
4) Friends.
For some, their whole circle of friends revolves around BSC. But for me, no. Fact to be told, my closer friends are those that are non-BSC members as well. I can't eat sleep work all BSC right! I really need them in my life too. So you all may just have to juggle one side of close friends, but for me, I need to juggle more than one side.
Whatever the decision is, I will tell you guys! (:

BASKET LA! Now I know why there's a public holiday in between the 2 nomination dates. To let us think through it. HAHAHA! Yeah, for real. Because it's a major decision that could change my whole POLY life around.